Looking for flat roofers in the West Midlands? For unrivaled, weather-resistant, and durable flat roofing, look no further than Lyndon Roofing. Our highly skilled team of experienced flat roof installers will expertly advise installing our quality flat roofs to suit your requirements. Our ethos is to not simply meet your expectations but to greatly exceed them. We specialise in providing flat roof systems to customers throughout the West Midlands and beyond.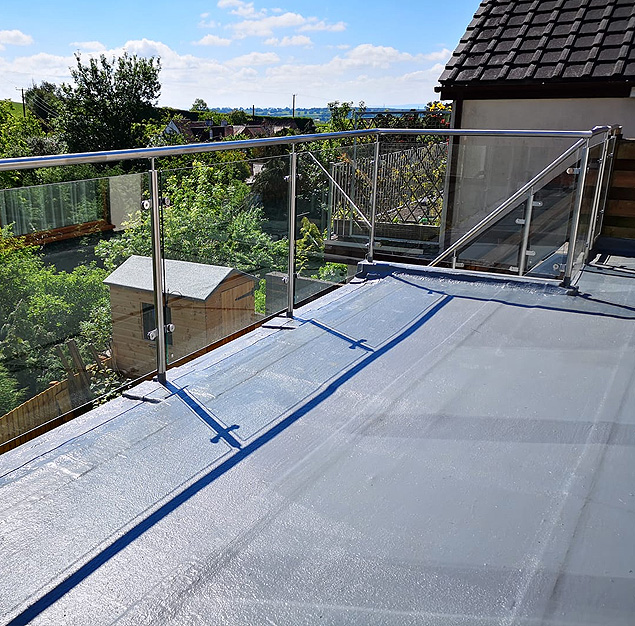 Types of Flat Roof Systems we install
Flat Roof Fibreglass Systems
Fibreglass roofing, also known as GRP roofing, is a glossy waterproof flat roof system that is often a favourite amongst the roofing industry.
The GRP or fibreglass flat roof is one of the most widely used systems in the UK and is found not only on large commercial buildings but smaller domestic properties as well. It is highly popular due to it's pleasing appearance and low maintenance. It's also relatively risk-free to install, by using a cold-application technique, no flame or heat-free is used. Therefore, eliminating the risk of accidental fires. It's also easy to maintain competitively priced, durable, and requires no heat.
Single Ply Roofing System
Single Ply flat roof installation has hit the roofing industry during the last 40 years or so. It consists of a single layer of polymeric or rubber membrane which performs as a high-quality roofing system. The materials used are usually TPO/TPE and PVC which are then fixed with adhesive or mechanically. Hot-air welding along the laps provide extra waterproof protection for those wetter months. Single Ply is often used more commercially but not restricted to them exclusively.
EPDM Roofing System Installation
EPDM, is a synthetic rubber that is heat durable and weather resistant, making it an ideal flat roofing material. Often used in domestic settings, it's suitable for different types of flat and shallow roofing.
This flat roofing is becoming increasingly popular due to its minimal maintenance, durability, and initial cost. With the appropriate aftercare, this flat roofing solution can last well over 30 years. You can choose from various types of EDPR Roofing depending on your requirements.
Liquid Rubber Roofing System
At Lyndon Roofing our liquid rubber roof installation is a long-lasting, weatherproofed flat roof system that boasts quality and performance. Liquid rubber membranes help achieve a seamless waterproof finish to your home or business. The roof is carefully detailed and strengthened with tape to the desired finish. Rubber roof paint has the advantage of being quite straightforward to apply. No heat or specialist equipment is required and it offers an entirely seamless finish.
Built-up felt roofing is a popular flat roofing system used for homes and businesses for many, many years. The roof layering will usually consist of two or three layers to form the flat roof; however, some modern-day felts have been designed to act as 'single-layer' which streamlines modern-day application. Bitumen felt is more commonly laid these days as a torch-applied system, although there is also a trend towards cold-applied systems using self-adhesive, mechanically fixed, or adhesively bonded membranes. The cold applied systems are usually sealed up by the use of hot-air welding techniques by professional flat roof installers.